INTERNET DANGERS: "Horror! Mom records murdered toddler in revenge text"
Some examples of Internet behavior go beyond even AUGNM's exhortation to #Think.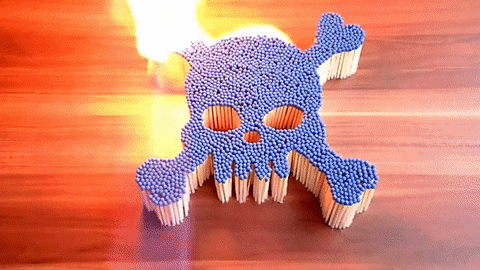 As readers may know by now, this skull indicates Internet behavior that is so egregious it's poisonous.
TheHorn News reports:
"A woman jailed on charges she killed her toddler son sent a video of the boy's apparently lifeless body to his father in a jealous, vengeful rage during a text-messaged argument that lasted more than two hours, cops said in a criminal complaint."
Among the text messages in question: "Ya kids ain't safe here I don't want them here" and "Answer me or im going to jail for child endangerment," as well as "I'm killing them" — followed by a laughing emoji with tears coming from its eyes.
The woman in question (whom AUGNM is not naming here) texted "photos of each child — including one of the boy face-down on an air mattress with his face in a comforter." She also sent videos as the fight escalated, and narrated: "Ahh look Angel is still alive and sweating your son on the other hand is not even breathing, I wish I could keep the camera still." A further text revealed the motive: "All cus you wanted to go (have sex with) her & come here when you like."
Then, the woman admitted in a text: "Im sure it'll hurt me one im sitting in jail & you got all the evidence you need to I can't even say he suffocated in his sleep or say idk what happened..."
Clark later denied her actions, but texts and videos don't lie. You can read the rest of the tragic tale here.
Some people permanently have the #Think mechanism disconnected. Don't be one of them. #Think before you harm a child, no matter how you may feel about the child's father or mother.
UGM Tip: There are anger management hotlines. Find out more. http://stress.lovetoknow.com/Anger_Management_Hotlines
If you're in crisis, use that cell phone for something positive: Call Safehorizon, 1-800-621-HOPE (4673). If you are in crisis or know someone who is, call Prevent Child Abuse America: 1.800.CHILDREN (1.800.244.5373). Internationally, there are hotlines and hope.
Of course, as Digital Goddess Kim Komando expressed to me recently on the subject of Internet manners, measures like this are like car insurance--everyone knows they have to have protection, but no one thinks about it until something drastic happens.
Please be the one to #Think--if not for yourself, then someone else.
#911 #badmanners #texting #404 #Skull #Crime #AUGNM #murder #textmessage #horror #Think