The Worst Day of Middle School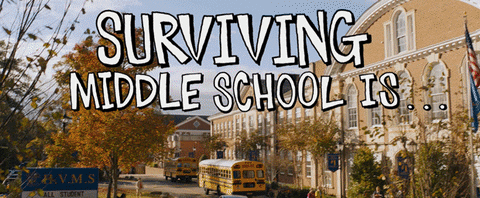 This is not a reference to the new James Patterson movie based on his best-selling book. (I should not need to mention the last part of that sentence because James Patterson writes nothing but best-selling books.)
The title of this blog is a reference to the Drive-By Truckers and their controversial new album. In an AP story in my local paper and available on the Internet, band members Patterson hood and Mike Cooley talk about "What it Means," an anthem about Michael Brown and other police-related shootings of young black men.
We lay aside the racial aspect here (though you can't in today's society, not entirely), although we quote this UGM (U Got Manners) Tip from our upcoming book, AIN'T "U" GOT NO MANNERS, to be published in 2017:
"Recently on Facebook, in the wake of the shootings of two African-Americans by cops and an attack by a self-styled African-American activist that killed five police officers in Dallas, I've seen my friends in the Black/African-American community (as well as people of all races and background) at their most emotional. I've also seen relatives of police officers get impassioned.
As I said to one African-American friend in response to a post, 'I've got you.' Rather than sticking my head in quicksand and weighing in on the controversy of #AllLivesMatter, #BlackLivesMatter, and #BlueLivesMatter, I simply say, to all who are hurting out there on social media, to the black community, to law enforcement, and at the intersection, the Black police officers, 'I've got you.'"
Drive-By-Truckers member Mike Cooley skips this issue altogether. Patterson hood said of Cooley: "He doesn't even look at the Internet," meaning social media.
Cooley said, "I went to middle school and I don't want to go back."